Pictures of our products will soon be added....
Herbal Baths $8.00
A Mixture of herbs, blended and empowered to fit your need. Relaxation, to draw love to you, to draw money to you....Specify your need with your order.
Herbal Soaps $8.00 Hand-made soaps, mixed with herbs and empowered with your needs. Wash hands/body with daily to attain your goal.
Bath Salts $10.00 A Relaxing bath infused with oils, customized to your needs.
Customized Spells $30.00
Luner Beginnings will compile a kit containing everything you need to complete a spell. You just inform of the spell you need. (please note that we will not supply negative or harmful magicks)
Customized Rituals $30.00
Need a Self-Dedication Ritual? Or one for the Sabbats, we've got it!
Magick Oils $10.00
A customized blend of oils, for spells, rituals, or altar oils
Hand-crafted Wands $40.00
Beautiful hand-crafted wands available in pine, willow, oak, maple and can be customized with the crystal of your choosing.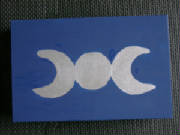 Altar Boxes $25.00
Everything you need! A portable Altar. Contains cup, mini wand, mini athame, mini censer, Lord/Lady candle, altar cloth
Sachet
also comes with appropriate colored candle and Meditation
Sachets and Herbal Charms $8.00
To be carried/worn to attain your magical needs
Incenses with Charcol Blocks $12.00. Hand mixed loose powdered incense customized and empowered to you magical needs.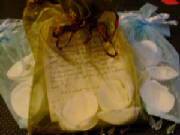 Seashell Divination Kits $10.00
Comes with carry bag and instructions
Lunar Horoscopes $25.00
Ancient Celtic Astrology. Please fill out the form with your date and year of birth.
Pendulum Boards $40.00
Beautiful hand-crafted from wood
Altar Cloths $12.00
Available in all colors......just let us know!!
Moon Bowls $15.00
Suitable for Drawing Down the Moon, or Scying